Your holiday apartments in Siusi allo Sciliar
Holidays in South Tyrol
Enjoy your vacation in South Tyrol in one of our four comfortably furnished holiday apartments in Siusi allo Sciliar. In our accommodations in Castelrotto, your entire family may enjoy plenty of space and an idyllic panoramic view on Mount Sciliar.
Each of our fully equipped apartments offers an eat-in kitchen with kitchen unit, a cosy sitting corner with couch, two separate bedrooms and a spacious bathroom. These are the basic features of our four approx. 50m² holiday apartments in South Tyrol.
Furthermore, our guests may use our covered parking lot as well as a ski storage free of charge. In the winter, a free shuttle service (250m) takes you to the cable car Alpe di Siusi.
Free for our guests:
Holiday Region Alpe di Siusi Live Card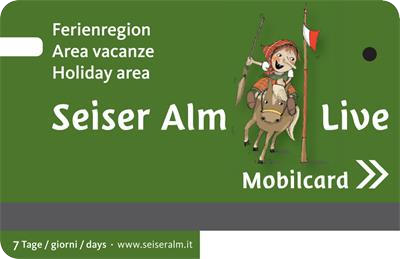 The Card facilitates holidaymakers' exploration of the Alpe di Siusi holiday area as well as the wider region of South Tyrol, providing a single-ticket access to all types of public transport, such as train and bus. The following services are included:
shuttle bus services of the Alpe di Siusi holiday area (except bus routes 10 and 11)
regional and local trains from Brennero as far as Trento and from Malles to San Candido
bus services throughout the province (town, suburban and city buses)
the Renon, Colle, Maranza, San Genesio, Meltina and Verano cable cars
the narrow track Renon railway and the Mendola cable railway
a return trip between Malles and Zernez on a Swiss Postbus service
discount on Combi Card, Nordic Pass and Seiser Alm Card Gold (discount: 3 in 7 or 7 days = 2,00 €; 14 days = 4,00 €)
The Card is valid for 7 days. Guests who have booked a longer stay, receive a second card after 7 days. The tickets are personal and non-trasferable and need to be voided each time you travel. Dogs don't have the right to get the client card and have to pay the regular fare in the SAD busses. The transfer of dogs in the shuttle busses is free of charge.
Information for guests who are travelling with all types of public transport, such as train or bus:
It is possible to get the card by post in advance from your host. The card is only valid for regional and local trains from Brennero as far as Trento and from Malles to San Candido. The ticket needs to be validated on the relative train station.
Price List
Conditions & Included Services
Period
Apartment
2 persons
Apartment
4 persons
27.08.2023 - 23.12.2023
60,00 €
80,00 €
24.12.2023 - 06.01.2024
105,00 €
125,00 €
07.01.2024 - 09.02.2024
65,00 €
85,00 €
10.02.2024 - 17.02.2024
85,00 €
105,00 €
18.02.2024 - 07.04.2024
65,00 €
85,00 €
Prices and discounts
The prices apply for a minimum stay of 3 nights per apartment and night, with occupancy of minimum 2-4 persons.
For each additional person we charge 10,00 – 15,00 € / night.
The price includes: Fully equipped kitchen, satellite TV with radio, electricity and heating, bread service, garage parking, as well as all fees and taxes, except for the local price.
The amount of the local tax is calculated on the basis of the municipal ordinance applicable at the time of the stay in the municipality
( from 2020: € 1,75 per person and day from 14 years).
Pets
For your four-legged family members we charge 10,00 € per day (food is not included)
Please bring your own basket or blanket for your pet.
Booking
Please note: The booking becomes binding at a payment of a deposit for confirmation (booking guarantee) and the transmission of the booking confirmation. In case of cancellation, the deposit will not be reimbursed.
Additional charges and terms of payment
Deposit: We look forward to receiving written reservations via e-mail. The reservation will be valid once the deposit of 1 – 2 nights has been transferred.
The deposit will not be refunded if canceled. In addition, the cancellation policy below applies.
The cost of the final cleaning is included in the price.
Payment: Please pay cash on site. The cash limit in Italy amounts to 2.999,99 €. The following payment methods are allowed: non-transferable check, bank transfer.
Arrival & Departure
Arrival: On arrival day, we expect you starting from 2:00pm. In case of a delay, we look forward to receiving a message from you.
Departure: On departure day, please leave your holiday apartment not later than 10:00am. Other times are possible upon request.
Cancellation
Cancellation conditions according to Art. 1382 Civil Code
You can cancel your reservation until 60 days before arrival without any cancellation fee. The deposit will not be refunded in case of cancellation.
Cancellation up to 28 days before the arrival date: 50% of the agreed total price;
If less than 28 days before the arrival date: 80% of the agreed total price;
In case of no-show, late arrival or premature departure: 100% of the agreed total price.
To save costs, we recommend that you secure yourself. Click here and take out your holiday insurance yourself.
According to the Italian Consumer Protection Code, there is no right of withdrawal. However, we grant you the right to withdraw according to following cancellation conditions as defined in art. 1382 (Civil Code)
Here, you may find mandatory information according to the EU-Regulation N. 524/2013 of the European Parliament and of the Council.The platform for online dispute resolution for consumer disputes (ODR) to the European Commission is available here: http://ec.europa.eu/consumers/odr/
Exclusion of liability
We strive to provide accurate and complete information on this website. However, we assume no liability or guarantee for the topicality, correctness and completeness of the information provided. We reserve the right to make changes without notice or to amend the information. Only the specific service offer or the booking confirmation is binding. For external links we can – despite careful control – assume no liability. For the content of linked pages exclusively their operators are responsible.
Data Protection
For the purposes of the GDPR, we inform you that your data will be used and saved exclusively for processing your application and will not be disclosed or distributed to third parties. Regarding data processing, you are entitled to all rights according to the GDPR. The holder of the rights is Andreas Mahlknecht – For more information about your rights, please visit here .